It's been a beautiful and quiet day across Texas. A dryline has pushed to Interstate 35 this afternoon. Conditions east of the dryline are warm and humid while its quite dry and hot west of it. The upper level storm system responsible for yesterday's severe weather outbreak in the eastern Panhandle, Kansas, and western Oklahoma has pushed into the Midwest. Behind it subsidence has kept the dryline capped and thus a nice day. Our next storm system will arrive on Thursday and with it a rapid increase in the overall severe weather threat. Unlike yesterday's quick hitter we're going to see this upcoming one stick around into the weekend. There will be the possibility of severe thunderstorms with an increasing heavy rain threat by the weekend. As usual there are some aspects that we can't pinpoint down at this juncture, but we'll tell you what we know and explain lingering uncertainties.
Thursday's Severe Weather Outlook
We already have a "moderate" level 4 risk of severe weather for the extreme northeastern Texas Panhandle on Thursday. This level 4 risk only includes a snippit of the northeastern Panhandle, but does include much of Northwestern Oklahoma and Southwestern Kansas. An "enhanced" level 3 risk includes the eastern Texas Panhandle and much of Northwest Texas. The "standard" level 2 risk includes much more Texas real estate with the eastern half of the Panhandle, West-Central Texas, the Big Country, Concho Valley, Southwest Texas, and western sections of North Texas, the Hill Country, and generally most locations along and west of Interstate 35 from Texoma to San Antonio. A "marginal" level 1 risk runs about 25-30 miles on either side of the level 2 delininations. Folks in and near the outlook areas should be keeping an eye on the sky (plus weather information updates) tomorrow. The position of the dryline will dictate how far west we get a severe weather risk. Likewise, if it ends up staying a bit further east, we may see the severe weather risks get shoved 30-60 miles eastward as well. These outlooks are driven by the probability of experiencing severe weather within 25 miles of any given point.
"Marginal Risk" is a 5% chance of severe weather within 25 miles of your location.
"Standard/Slight Risk" is a 15% chance of severe weather within 25 miles of your location.
"Enhanced Risk" is a 30% chance of severe weather within 25 miles of your location.
"Moderate Risk" is a 45% chance of severe weather within 25 miles of your location.
Considering the "enhanced" and "moderate" risks mean at least a 1 in 3 chance of severe weather near you that is a fairly significant risk. Don't pay too much attention on exactly where the lines set up – they'll change as we get more specific on Thursday. Just understand that if you're near one of these risk zones that you should be paying attention to the weather tomorrow. All modes of severe weather are expected on Thursday in the level 3 and level 4 risk zones. The highest potential for significant tornadoes will be in the level 4 risk zone, but a strong tornado cannot be ruled out in the eastern Texas Panhandle and Northwest Texas tomorrow afternoon and early tomorrow evening. Giant hail is expected, some stones could be larger than 4 inches in diameter. Wind gusts near 80 MPH are also possible from the most intense storms. The primary threats in the "marginal" and "standard" level 1/2 risks will tend to be large hail and localized damaging wind gusts. However, the tornado threat is not zero in those risk zones. The time-frame opens up at 2 PM and should be starting to decrease by 10-11PM. We may only see a few supercells tomorrow, but those that develop will likely be quite severe. So while most may remain dry, those that end up under a storm could have high-impact weather.
Nitty-Gritty Details on Thursday's Storms
Tonight and the morning hours tomorrow should be quiet across Texas. We'll see the higher moisture levels start to quickly surge north and the dryline will retreat back into the Texas Panhandle and West Texas. Expect gusty southeast winds by late tonight into most of Thursday. The exception on wind tomorrow will be 1) west of the dryline where west winds are expected and 2) in vicinity of convection. Several high-resolution convective allowing models depict thunderstorm initiation occuring by 2-4 PM in the eastern Texas Panhandle southward into Northwest Texas into the Big Country and Concho Valley. This activity should initiate just east of the surface dryline, although we might see activity pop up in the open warm-sector in the Big Country/Concho Valley as stronger upper level lift barrels on in by mid/late afternoon. Once thunderstorms get going in the eastern Panhandle to Northwest Texas explosive intensification is anticipated with severe weather likely. Storms will tend to move northeast at 35 to 45 MPH (like Tuesday). A positive note for us is the storms that fire up may not reach peak tornado potential until they move into Oklahoma, but the risk of very large to giant hail will be significant. Further south in the Big Country and Concho Valley we could see storms firing up by mid to late afternoon. They would also move northeast around 25 to 40 MPH. The risk for tornadoes would be comparatively lower than further north due to higher cloud bases and weaker low-level wind shear. That's not to say the tornado risk is zero, but it would remain more isolated. Very large hail would be a significant risk with any intense storms tomorrow in Texas, no matter if they're located near the Red River or near the Mexico border. We'll have plenty of juice for updrafts and the largest hail stones may tend to be in the softball size range. We had hail larger than softballs (4″) on Tuesday, nearly the size of grapefruits (4.5″)! Localized damaging wind gusts of 55 to 80 MPH will be possible in the vicinity of the strongest storms tomorrow as well.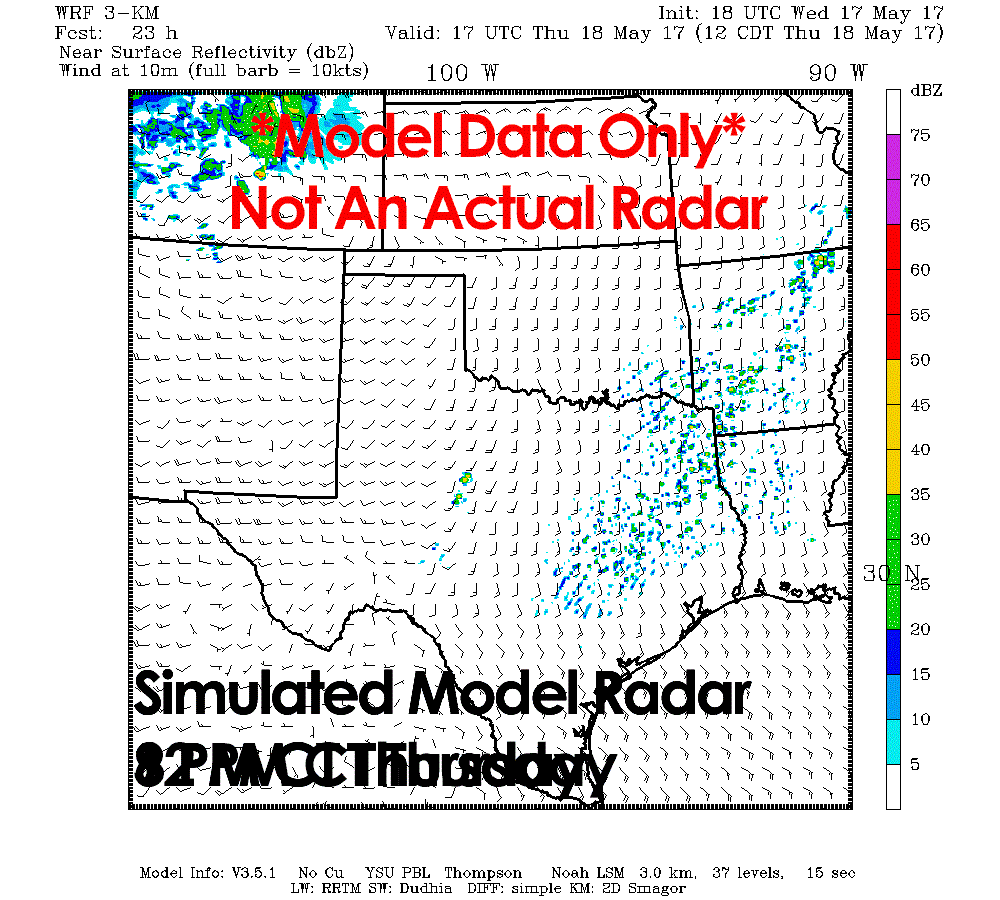 For the purpose of this blog we're utilizing the 18Z (afternoon) run of the Texas Tech WRF – a high resolution weather model designed for convection in the southern United States. This model tends to be conservative on convection, which is useful in showing compared to a different model that might be overdoing the number/location of storms. The TTU WRF does fire up the first storms by 2-3 PM, a reasonable expectation given a weak cap, a very unstable enviornment, and increasing upper-level lift. It has storms moving northeast through the risk areas during the late afternoon and early evening hours. I would expect storms to start diminishing in intensity by 10 PM as the capping inversion strengthens. Additional thunderstorms may develop in portions of North and Central Texas during the mid-evening into late evening hours. These new storms would be elevated above the cap, keeping the tornado and damaging wind threat lower. However, the risk of large hail would remain a concern into the night. A squall line may also fire up in the late evening/nighttime hours in the Big Country and Concho Valley – similar to Tuesday Night. Localized damaging winds and hail would be possible within the strongest sections of that squall line. The squall line might make a push toward western North Texas, but like this morning, it would weaken below severe limits well west of Interstate 35/35W.
Friday into Saturday
This aspect of the forecast will undoubtedly change as tomorrow's severe weather will play a significant role in dictating Friday's setup. The storm system responsible for tomorrow's severe weather setup will push further east for Friday. That'll drive a dryline back east into Northwest Texas, the Big Country, and Concho Valley. By Friday Night into Saturday a cold front will move slowly from north to south – likely with a line of thunderstorms accompanying it. The cold front may become very slow to move south/east in portions of the Concho Valley, Hill Country, to North Texas by Saturday morning. We should see that front slowly sag south and east during the day Saturday into South and Southeast Texas. However, copious amounts of moisture may result in training thunderstorms near this front. It is on Saturday when we may see the most widespread rain/storms from the Concho Valley northeast into Texoma east into Central and East Texas. A heavy rain/flooding risk looks to be the primary concern during this time period with the overall severe weather threat becoming marginal. Like Friday this aspect of the forecast is likely to change, not only because of the previous two days of activity, but because we're still 3+ days out. Rain/storm chances could continue into Sunday across the southern/southeastern half of Texas with a strong storm/flooding threat.