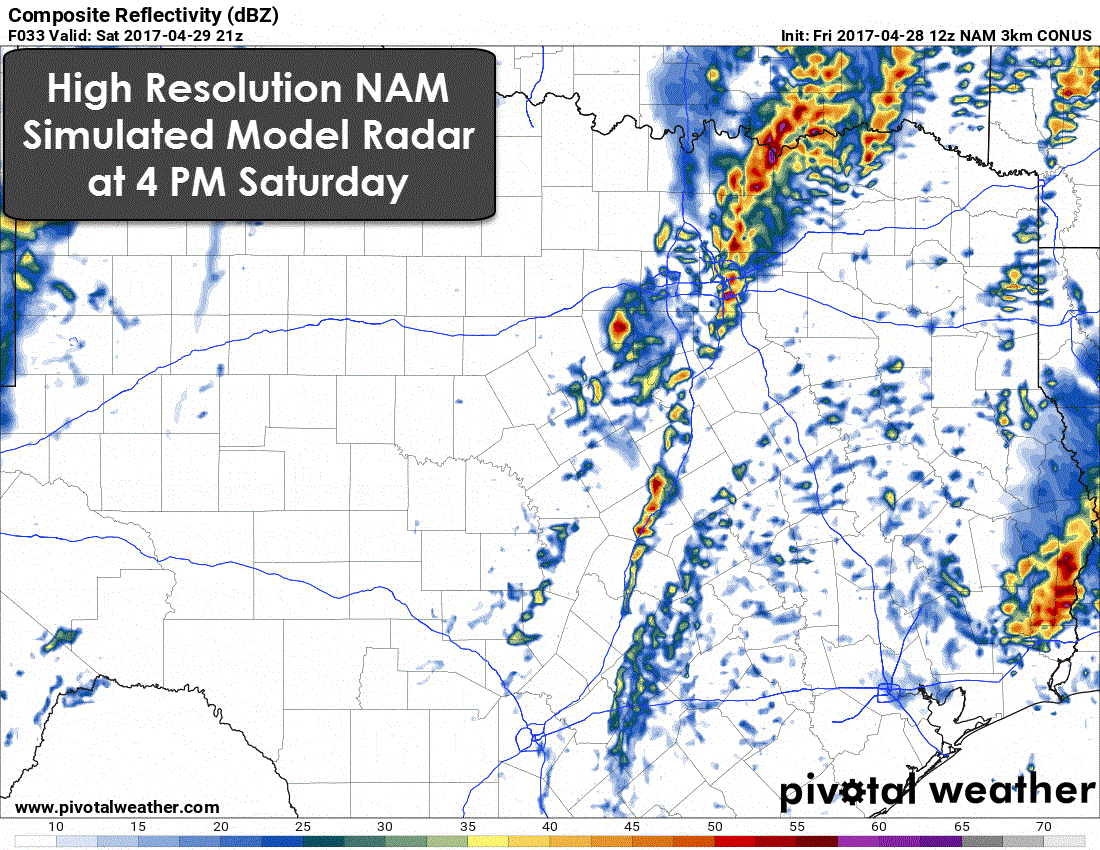 Our weather in Texas has a tendency to be rather interesting at times. This weekend will live up to that. Severe thunderstorms, flash flooding, downstream river flooding, and a snow storm are all on the table this weekend. It may be late April, but the Texas Panhandle is under the gun for a winter storm this weekend. Since I have a love of snow we'll start out by discussing that possibility before getting down into the nitty-gritty severe weather chances further east.
A Winter Storm Watch is in effect for the northwestern Texas Panhandle for Saturday and Saturday Night. This zone is where three to six inches of wet, heavy snow will be possible. One to three inches of snow are possible along and northwest of a Vega-Borger-Lipscomb line. A dusting to perhaps one inch of snow will be possible across the remainder of the Texas Panhandle along with a rain/snow mix. This snowfall forecast is still subject to change, and its possible these accumulation lines will need to be shifted considerably in later updates. As we may be dealing with a wet snow, there is the potential for some tree and powerline damage in the far northwestern Texas Panhandle. It is not out of the question that we see heavier snowfall totals in the far northwestern Panhandle, perhaps in excess of six inches.
A cold front will bring high chances of thunderstorms to portions of North Texas, Northeast Texas, East Texas, and the Brazos Valley by Saturday Afternoon into Sunday Morning. High atmospheric moisture levels will support heavy rainfall rates. A squall line will move east across the aforementioned regions from Saturday afternoon into Sunday morning. Depending on a few factors, the squall line may be moving slow enough to the east to dump a quick two to four inches of rain. The risk of the heaviest rains will be highest in Northeast Texas. Localized flash flooding is possible, and we'll need to watch trends closely. A life-threatening flood event is forecast for eastern Oklahoma into Arkansas where over ten inches of rain may fall. We're on the southern edge of that high-end flood risk, but we'll watch it closely.
An active severe weather episode is expected to start by mid-evening in southern and central portions of oKlahoma. This threat will likely include numerous severe storms capable of producing very large hail, localized damaging winds, flash flooding, and a couple of tornadoes. The far eastern sections of the Texas Panhandle east through extreme Northwest Texas have the best chances of seeing a few severe storms tonight. A majority of the activity should remain north of the Red River. However, the 'tail end' of the activity may impact the Red River counties of Northwest Texas late tonight. Some of those storms could be severe with large hail and localized damaging winds. A conditional, but low risk of storms does exsist late this afternoon into the early evening across western North Texas and Northwest Texas. We likely won't see any thunderstorm this afternoon, but if one does develop it will be intense.
By Saturday afternoon a cold front will be moving into North Texas and into the Hill Country. A line of storms will eventually develop by the mid-afternoon hours, probably west of Interstate 35W. That line of storms will make progress to the east Saturday evening and during the late morning hours Sunday. Current projections, which could easily be off by a few hours, have this line of storms exiting Northeast and East Texas around 4 AM Sunday. That means this line of storms won't be moving that quickly to the east, more supportive of potential pockets of heavier rainfall. The strongest storms in this squall line may be severe with a risk of damaging wind gusts over 65 MPH and hail up to the size of golfballs. Brief tornadoes are possible within stronger storms in the squall line, but those tornadoes would occur within more widespread swathes of destructive straight-line winds. As discussed previously a threat of flash flooding will exsist in Northeast and East Texas. It looks like a capping inversion will prevent discrete storms from developing ahead of the squall line. However, should any discrete storms form, they would be in an enviornment quite supportive of tornadoes.
As always, nothing is set in stone. There will be a few surprises and when it comes to thunderstorms, expect the unexpected. We'll keep an eye on things and have another update later today.