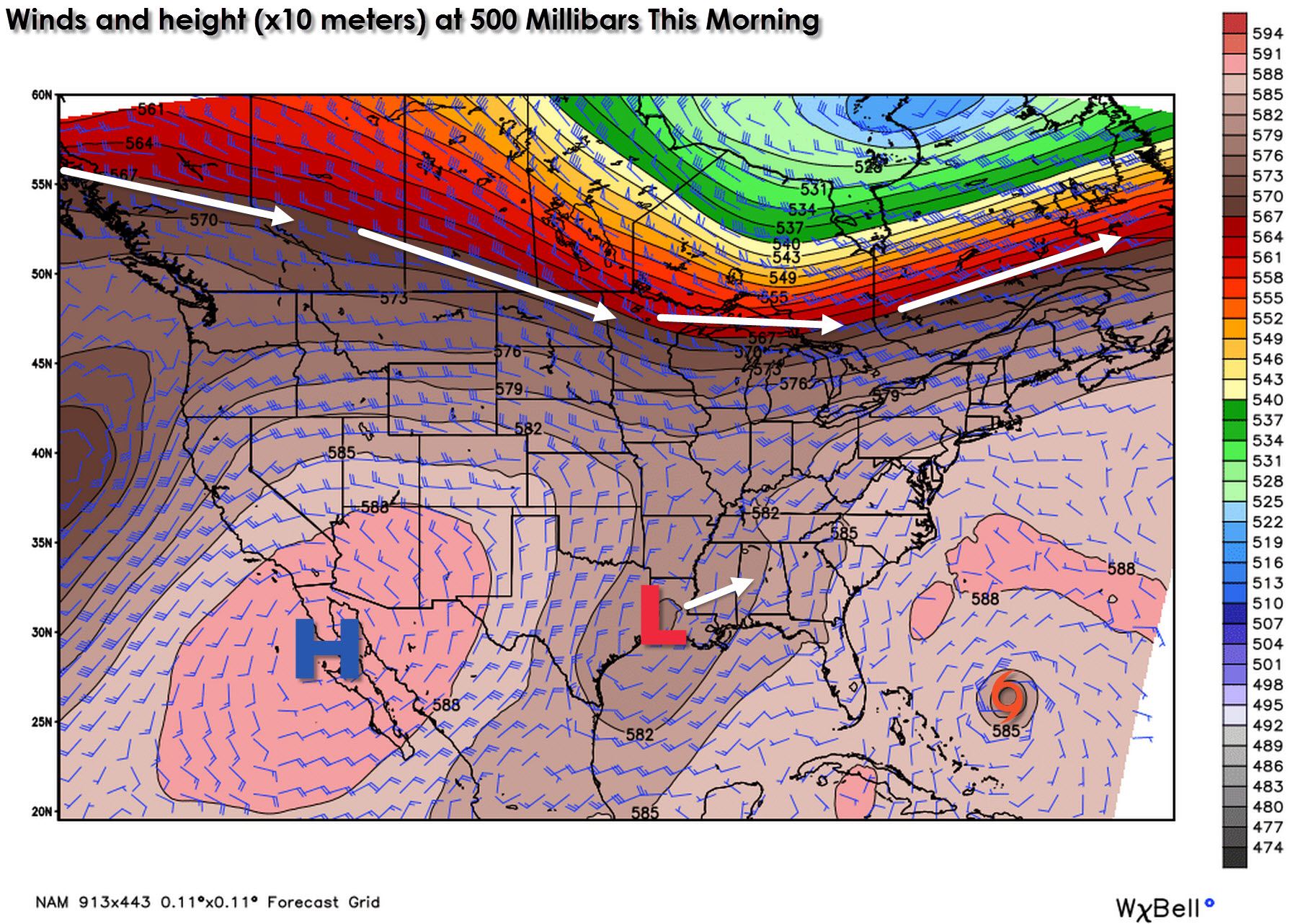 For the third day we're feeling the impacts of a low pressure located across Southeast Texas. It's on the way out and will be gone tonight. A high pressure aloft is located across the Southwest United States with a weak northerly flow aloft over Texas. Above average temperatures will continue for the remainder of the week under this pattern. Changes could be on the way by the weekend into next week though.
Scattered showers and thunderstorms are in the forecast today across Southeast Texas, the Brazos Valley, East Texas, and Northeast Texas. Far Southeast Texas will have the best chance of rain today with a 50/50 chance for Beaumont. A 30 percent chance of rain exist across the Houston Metro, College Station, Lufkin, Shreveport, and Texarkana. Rain chances diminish to 20 percent further west in areas like Tyler and Victoria. Those who end up under a shower may receive a tenth to a quarter inch of inch rain today. By tonight rain chances will diminish with a 10 to 20 percent chance of a rouge shower across East and Southeast Texas. A rouge storm is also possible this evening and overnight across the far northwest Texas Panhandle.
Temperatures will once again be at or above seasonal averages this afternoon. High temperatures will reach the mid to upper 80s across the Texas Panhandle, East Texas, and Southeast Texas. Upper 80s to lower 90s are in the forecast for the Permian Basin, Big Country, Concho Valley, Northwest Texas, North Texas, and Central Texas. Low to mid 90s are in the forecast across South-Central Texas, South Texas, and the Rio Grande Valley.
For tonight we'll see low temperatures in the 70s in South Texas, the Rio Grande Valley, and Southeast Texas. Upper 60s are forecast for Central Texas, East Texas, Northeast Texas, and North Texas. Low to mid 60s will be the low point tonight for the Concho Valley, Big Country, Northwest Texas, and the Permian Basin. Upper 50s can be expected across the Texas Panhandle and West Texas. The Alpine Mountains will drop to around 50 degrees tonight.
Confidence is low in regards to the forecast later this week and into the weekend. There is the possibility that a fairly impressive cold front could bring fall-like temperatures to locations along and north of Interstate 20 for the end of the week into the weekend. Precipitation would also be possible. The issue is that weather models are in very poor agreement regarding the overall pattern setup. With that said there will likely be forecast adjustments as the forecast becomes more clear.